As the Raven Flies Time Trial
The starting location of the As the Raven Files Time Trial is on a flat section of road, that is, it is flat for 100 yards before you begin the first and hardest climb of the route. My goal was not to blow up on this hill; not to blow up in the first quarter mile of the race. I was successful, but my minute man also passed me on the hill, and he passed me as if I was standing still.
Before last November when I broke my right tibia and fibula, this hill would have been fun. Today it was a challenge, a test of strength that I do not have. I struggled and I was happy to see the top! I shifted into my big ring and noted that my minute man was still in sight at the bottom of the hill. It took me 30 seconds to reach where I had seen him.
After the big hill, the course crosses five rollers as it wanders around the foothills southeast of McMinnville. This meandering gives the race it name - As the Raven Flies. Seems ravens like hills and can not hold a straight line for more than a couple hundred yards.
Cresting the last roller, I dropped down to one of the flattest sections as the course leaves the foothills for the valley floor. Of course, now I could feel the south wind in my face. But I did not have to suffer the wind for long as I soon came to the turn-around.
I successfully make the u-turn and headed back the way I came. The five rollers did not prove difficult, and neither did the last hill. Cresting the hill, I pick up speed as I descended and negotiated the last turn and sprinted for the finishing line. I hope it was impressive, as I was out of breath as I crossed the line.
My official time should be (hopefully) under 40 minutes, and I can not be too unhappy with it. Now that I have approval from my doctor to begin hard training, I can work on slowly recovering what I have lost since my accident, including the two inches my right quad lost!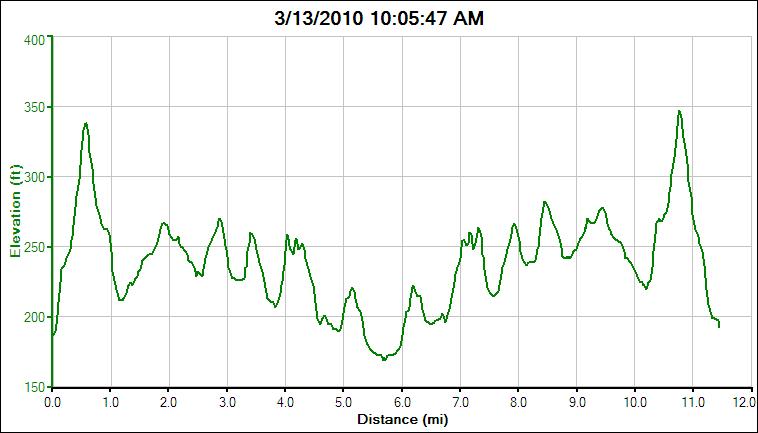 ---