Friday, April 30, 2010
Good Bye Blogger!
As of May 1, 2010, Blogger will not support blogs on remote servers via the ftp protocol. As such, this will be my last Blogger entry.
I am working on a new blog at
www.onyourleft.net/wp/
---
Monday, April 26, 2010
Deschutes River Valley Time Trail Festival
---
Friday, April 23, 2010
Deschutes River Valley Time Trail
What have I gotten myself into?
Three time trials in two day?
All with hills!
And the last one being longer than any ride I have done since my accident!
Ride plan: Stage One - 27 miles with over 2000 feet of gain. Fun.
I have ridden this route many times during the Ring of Fire Time Trial - it is the night loop. It starts hard with a 1000 foot climb from the Deschutes River to the plateau above the town of Maupin. I intend to take this very easy keeping my heart rate below 145 beats per minute. The morning will be very cold, but the hill should warm me up.
Crossing the plateau I intend to pick up my effort and let my heart rate climb. I will recover during the descent into Tygh Valley and then work to keep my speed up along the vally floor.
At the far end of the valley, the route turns to the east onto hwy 216. This section is rollie, so I will back off and let my heart rate drop to 145, except for the two short hills. At the end of this section is a longer but not too steep hill before a rapid descent toward Shearer's Bridge. I intend to increase my effort on the hill and recover during the descent.
The last section of the route is flat. This is where I intend to ride as hard as I can back toward the start/finish line. Goal: 1:21 or 3 minute miles or 20 miles per hour average. But 1:25 is probably where I will come in at.
Ride plan: Stage Two - 8 miles up hill. No rest and no mercy.
I have never been on this road, but looking at the profile, it is up hill all of the way. It gains about 1800 feet in 8 miles, just over a 4% average.
My plan is to take my heart rate to 150 and keep it there for the entire ride. Goal: 40 minutes - 5 minute miles or 12 mph.
Ride plan: Stage Three - Bakeoven Road - 50 miles of up and down. The first seven mils is steep, and then it gently stair steps for the balance of the climb. Then you turn around, and fight the wind all of the way down. Fun.
My goal: survival - no more, no less. In other words, I do not know my I can expect our of myself on this stage. Since this stage is so long, I will try to keep my heart rate to 140 during the climb.
---
Thursday, April 22, 2010
---
Sunday, April 18, 2010
Estacade Time Trial
On a bright and sunny Sunday, I drove to Estacada for the 20 mile time trial along the Clackamas River. My start time was just before noon, so Joanne and I arrived about an hour early, giving me plenty of time to warm up. We parked the van next to Mark Zielinski, Rick Kercheski and Phil Litchfield. But once I was on the trainer, I was focused inward. My goal was to finish the twenty miles in under an hour. I thought I could do it, but I would have to work hard.
With just a few minutes before my start time, I rolled out of the upper parking lot and headed to the start. I declined the "time trial hold" as I am still a bit skittish about my recently healed broken leg.
The course is flat to start with, but within the first few hundred feet, there is a small hill, placed there just to show you that the course will not be completely flat. I knew this hill would hurt on the way back, and by the faces of racers who were finishing, I was right.
I never saw my minute man; I had no rabbit for the first four miles. I brought my heart rate up to 150+ beats per minute and held it there. After the small hill at the beginning, the course is mostly flat for several miles. I stayed within myself and I thought I was having a good ride.
I intended to press the "lap" button on my Garmin Edge 305 every mile so I could see how many minutes each mile was taking me. One problem: I was in a river valley with steep cliffs on each side. My Garmin lost contact with the GPS satellites. Oh well.
After four miles, Rick, who started two minutes behind me, passed me offering encouragement as he did so. I felt some of his power, and picked up my speed just a little bit to keep him is sight. I managed to do so for about a mile or two, but Rick finally pulled away from my sight.
Rick had warned me about a hill that was at the seven mile mark. He was right. My speed dropped to the low teens, and my heart rate rose well above my lactate threshold. But I crossed over the top and enjoyed the small descent down to the turn around. Yes, I peddled down the hill. I usally cosat down hills in my Ultras, but this race was only twenty miles, and I need to make up some time!
The return was hard. Now I had some wind to ride against, and my heart rate showed that I was putting more effort into peddling. Surprisingly, the small hill that marked the end of the race came upon me sooner that I thought. I hit the hill hard knowing that once I crossed over, it the finishing line was just a few hundred feet away. My heart rate rose to it maximum of the day, 179 beats per minutes. And yes, I was very happy to cross the finishing line.
My time was 58:56, over a minutes below my goal. My average speed of 20.36 was higher than my average speed for the last As the Raven Flies TT (19.42).
---
Sunday, March 21, 2010
Raven Flies TT - The Fun Continues
21 Maurice John Henry Capitol Velo p/b Lifesource 37:04.72
Yesterday was a busy day.
I woke up at 4:30 am. This because I was a volunteer at the Birkie Brevet put on by the Oregon Randonneurs. My job was to work registration and I had to be in Forest Grove at 6:00 am. Forest Grove is an hour away from my home.
It was cold in Forest Grove, but we got 41 folks off on what would prove to be an excellent ride. But my mind was on other things, like how I would rip my lungs out on my second attempt at the
As the Raven Flies Time Trial
.
I arrived at the race start with just enough time to warm up. I put my LeMond on my stationary trainer and rode it for 25 minutes getting my heart rate up to 145 bpm. The course is flat, for the first 100 yards, then you climb the highest hill on the course. As such, you must be warmed up right as you begin.
I headed down to the starting gate 15 minutes before my start time of 10:29. I first check the race clock. It was close enough to real time that I was not late. I decided a last minute bladder emptying was in order but I had to wait in line for five minutes causing me some anxiety. But no worries as I was at the start with time to spare.
Unlike last week, the sun was out and the temperature was in the mid-fifties - perfect racing weather. My legs felt good and I thought I did have a chance to take some time off of my last weeks time of 40:37. I had not set any specific goals, well perhaps a few - do better than last week, race hard but have fun!
The last ten second count down always seems to take five seconds and fifty seconds at the same time. But I heard "zero" and I was off. I had just enough time to get my heart rate up before the hill started. As the incline increased, I shifted down into the middle chain ring (yes, I ride a triple) as I had wanted to be in a gear that I could spin as I crested the top. I watch my heart rate go into zones it rarely sees, but always stayed in a gear that I could spin. I did not want to blow up on the first hill of the route.
Looking up, I could see my minute man near the top of the hill. Hmm, I have a rabbit. Let's to rabbit hunting!
Cresting the hill, I was in good shape. I shifted into my top gear, and peddled down the hill chasing my rabbit. No coasting for me!
Having done the course the week before, I was a bit more aggressive in the corners. I roadway was smooth and clear of gravel, so I felt fine as I zoomed through down the course. Keeping an eye on my rabbit, I could tell that he was not pulling away from me. It seemed like we were equal on the flats, but on each little hill, I was gaining. So, I worked extra hard on each hill and I could see the results. My rabbit was getting closer!
On the last little hill before the turn-around, my rabbit was getting into dire straits. His cadence was slow and so was his speed. I passed him like he was standing still. It felt good.
Now, I was in trouble. My rabbit was now behind me making me his rabbit. And I had no one to chase. This could be bad. At the turn-around, I could see that I was not that far in front of my former rabbit. I focused and worked as hard as I could on each little hill trying to eke out every bit of speed I could.
There is one turn in the course, one place where you can easily look over your shoulder to see what is behind you. When I made this turn, I did look behind me to see where my chaser was, and I could not see him! I had dropped him!
Now, it was me against time. I knew I was doing better than last week. I did some quick mental calculations, and determined I had a chance of finishing below 37:00. As I came to the last hill, I was determined not to blow up so I shifted down to the smallest cog the bike has while staying in the big ring. I could feel myself slowing and I wanted to shift into the middle ring. But looking up I was only 20 yards from the top so I increased my effort and peddled harder.
Cresting the hill, I shifted into my highest gear, but I needed a few seconds to recover. Just moments later, I peddled as hard as I could down the hill, taking the last corner at speed and sprinted for the finishing line. I crossed it at 34:04:72. I felt great! I almost made it, but missed by only five seconds.
I finished 21st of 27 starters in my classification and 67th our of 92 started combined.
Life is good.
---
Sunday, March 14, 2010
Raven TT Results
I met my goal of finishing under 40 minutes and I was 14th our of 18 starters in the Masters 50+ category. WooHoo@
14 2178 Maurice John Henry Capitol Velo p/b Lifesource 39:37.48
---
Saturday, March 13, 2010
As the Raven Flies Time Trial
The starting location of the As the Raven Files Time Trial is on a flat section of road, that is, it is flat for 100 yards before you begin the first and hardest climb of the route. My goal was not to blow up on this hill; not to blow up in the first quarter mile of the race. I was successful, but my minute man also passed me on the hill, and he passed me as if I was standing still.
Before last November when I broke my right tibia and fibula, this hill would have been fun. Today it was a challenge, a test of strength that I do not have. I struggled and I was happy to see the top! I shifted into my big ring and noted that my minute man was still in sight at the bottom of the hill. It took me 30 seconds to reach where I had seen him.
After the big hill, the course crosses five rollers as it wanders around the foothills southeast of McMinnville. This meandering gives the race it name - As the Raven Flies. Seems ravens like hills and can not hold a straight line for more than a couple hundred yards.
Cresting the last roller, I dropped down to one of the flattest sections as the course leaves the foothills for the valley floor. Of course, now I could feel the south wind in my face. But I did not have to suffer the wind for long as I soon came to the turn-around.
I successfully make the u-turn and headed back the way I came. The five rollers did not prove difficult, and neither did the last hill. Cresting the hill, I pick up speed as I descended and negotiated the last turn and sprinted for the finishing line. I hope it was impressive, as I was out of breath as I crossed the line.
My official time should be (hopefully) under 40 minutes, and I can not be too unhappy with it. Now that I have approval from my doctor to begin hard training, I can work on slowly recovering what I have lost since my accident, including the two inches my right quad lost!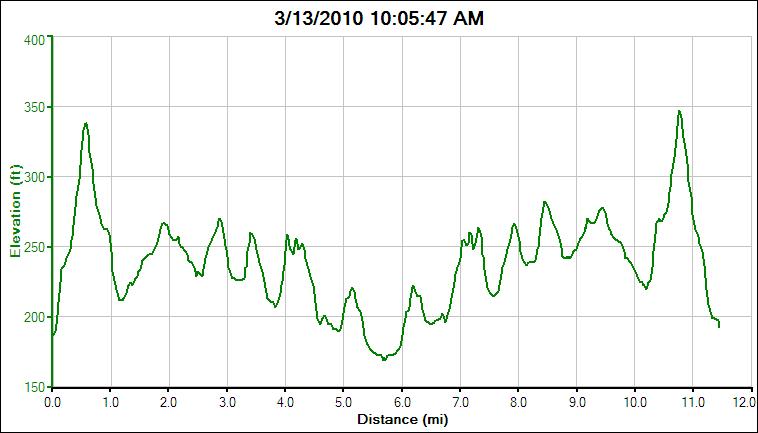 ---
---
Saturday, February 27, 2010
Saturday Morning Scott's Ride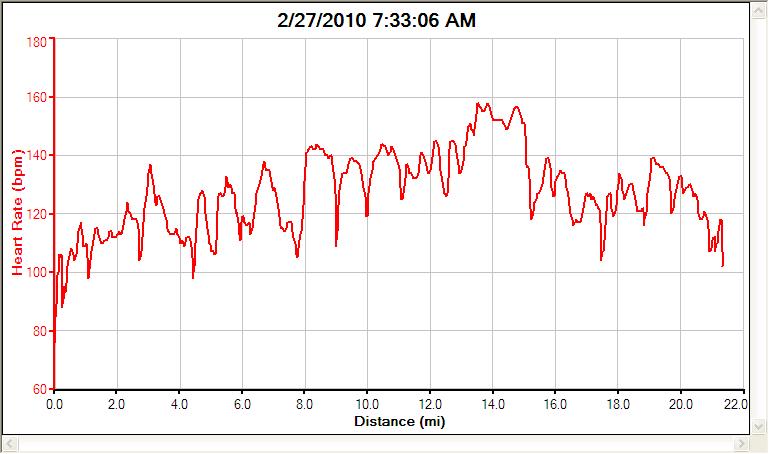 My average heart rate was 125 bpm.
---
Wednesday, February 24, 2010
Wednesday Night Ride
My lovely wife had other commitments, so I was scheduled to lead the Wednesday Night Salem Bicycle Club ride. Driving home from Portland, it was raining, and it was not a light rain, a rain any Oregonian would be proud of.
I did not want to ride.
But, I had a responsibility, so I got dressed, loaded the bike up in the van and went down to the start. I was a bit late, and I guess I was hoping there would be no one there, but Roland was.
The rain had stopped, but I was sure it would be back. I quickly unloaded by bike, put on my helmet and gloves and we were off, just the two of us.
Roland set a good pace, and I did not have too much trouble matching it. The roads were wet, and there were a few drops falling, but soon the pure joy of riding a bicycle infected me and I started to smile. We the the usual loop counter clock wise. Traffic was light and curtisous. It was fun!
Podium Café Virtual Directeur Sportif
Announcing my 2010 Virtual Directeur Sportif team - the Hoary Marmots. May they go out and win races (and not drug).
You can follow my team at
PodiumCafe.com
.

Country Team Rider
1. NOR SKY Edvald Boasson Hagen
2. GER THR André Greipel
3. AUS SKY Simon Gerrans
4. SWE SKY Thomas Lofkvist
5. CAN GRM Ryder Hesjedal
6. NED GRM Martijn Maaskant
7. AUS SKY Chris Sutton
8. ITA GCE Marzio Bruseghin
9. AUS THR Matthew Goss
10. GER THR Bert Grabsch
11. NZL SKY Gregory Henderson
12. USA BMC George Hincapie
13. USA RSH Chris Horner
14. RUS KAT Vladimir Karpets
15. GBR GRM David Millar
16. BEL RSH Gert Steegmans
17. BEL GRM Johan Vansummeren
18. USA GRM David Zabriskie
19. CAN SKY Michael Barry
20. FIN SKY Kjell Carlstrom
21. USA GRM Tom Danielson
22. NZL GRM Julian Dean
23. GBR SKY Chris Froome
24. USA GRM Danny Pate
25. AUS GRM Jack Bobridge

---